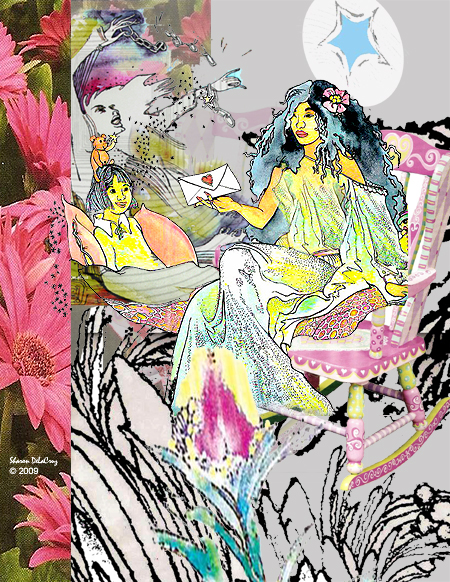 Possibilities exist in each day, when we commit to seeing this within our lives. This Art work was inspired by my commitment to create possibilties in my life.

As a fiber artist, quilting together parts of my life made sense, especially when I combined pieces of my art work representing the 'possibilities' to remain available and open.

This art collage was produced by combining numerous parts of five pre-existing original ink-line drawings that required months of love and labor.

When I was confronted with what I believed were impossible circumstances on 7-17-2009, I began scheduling days away from my usual routine to devote producing this art collage.

My art illustrates how important it is to maintain health in all areas of life--physically, emotionally and my courageous pursuit of starting a future business in times of economic uncertainty.

My art reflects the process of the possibilities of love by breaking through the bonds of constraints. Being consistently active and powerfully self-expressed opens up a new way of life and can transform difficult situations.
Sincerely Ms. Sharon DeLaCruz
Previous
Back to Art gallery